2009 Pulitzer Prize-Winner for Drama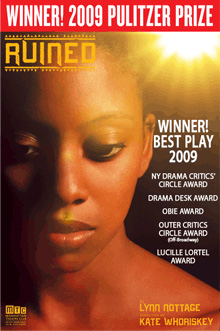 From the Obie Award-winning playwright Lynn Nottage comes a haunting, probing work about the resilience of the human spirit during times of war. Set in a small mining town in the Democratic Republic of Congo, Ruined follows Mama Nadi, a shrewd businesswoman who runs a brothel in a land torn apart by civil war and where rape is the weapon of choice. The production explores the thin line between her protection of and profiteering from the women she shelters—women who've been "ruined" by rape.
One of the "ruined," 18-year-old Sophie, played by Condola Rashad, rarely verbalizes her sex-captive ordeal, yet we are painfully reminded of the inhumanity that scars her with every wince and painful limp she takes. There are no words for the terror materialized on and in her body. But even as you are confronted with the unthinkable, Ruined leaves one hopeful—that even after the unimaginable tragedy and the terror, what is not lost is the opportunity to reclaim and reinvent oneself—as many tries as it takes.
Written by: Lynn Nottage. Directed by: Kate Whoriskey
Currently on stage. New York City Center, 131 W 55th Street – Midtown, NYC