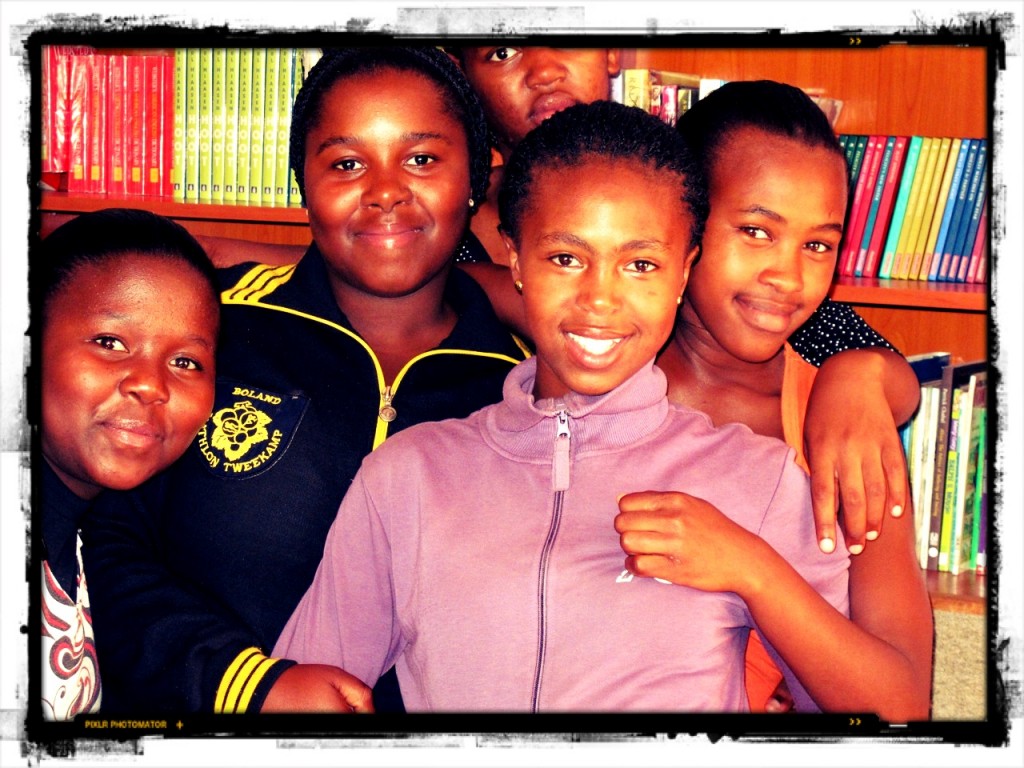 Phola, center, with the girls of the Amazw'Entombi (Voices of the Girls) Writing Club in South Africa.
To me, writing is soulful. It helps me to throw my emotions into paper. It relieves my pain. It also helps show my happiness and life experiences. How wonderful writing is now ever since I started at writing club. I'm starting to love writing. Just keep my hand moving. Writing keeps me thinking. It challenges me. I did know that I had so much so much in my mind that needed to be put down. Sometimes we need a bit of inspiration to get more encouraged. To me, writing is a drum waiting to roll.               —Phola, 17 years old | Gugulethu, South Africa
BY KIMBERLY BURGE | GIRLS ISSUE | SPRING, 2013
From their birth—from the names given them—words matter to girls in Gugulethu.
On the first day of our writing club there, I asked each girl to write, with brightly colored markers, her name and its meaning on a nametag. Most of these girls are Xhosa, the second largest ethnic group in South Africa, which claims Nelson Mandela among its numbers. Xhosa parents give their children names with significance attached. When I met each one, I learned the girl-child's place in her family, what dreams or healing she brought along when she entered the world, what hopes and expectations lie ahead for her.