South Africa | Zwelethu Mthethwa: Inner Views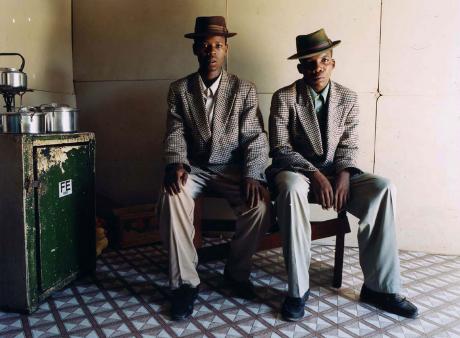 Zwelethu Mthethwa, Untitled from "Interiors" series, 2001
By Mohamed Keita
In "Inner Views," currently on view at The Studio Museum, South African photographer Zwelethu Mthethwa offers an intimate glimpse into the lives of coal and gold miners, brick layers and sugar cane workers in Johannesburg, South Africa.
By staging migrant workers as personable characters reveling in the glory of their modest homes, Mthethwa colors —no pun intended—a black and white interpretation of life in the poor townships of South Africa.
The short selection of photographs, divided in three series: Interiors, Empty Beds and Common Grounds, is part of a much larger set focusing on the topic of ordinary lives in marginalized townships, a genre of social realism made famous by late iconic South African painter Gerard Sokoto.
Along with the images of Johannesburg are intimate close-ups of forsaken dwellings in post-Hurricane Katrina New Orleans and post-wildfire Cape Town from the Common Grounds series. With all the photographs untitled, discerning the locations of these closely-cropped photos is both challenging and stimulating, save for tell-tell items of mass consumerism like a halfway empty bottle of Jive.
With staged portraiture reflecting the work of Seydou Keita and Malick Sidibe, and color, Mthethwa departs from the Apartheid-era black and white tradition seen often in the work of such documentary photographers like David Goldblatt.

There is a democratic value to Mthethwa images: he allows his subjects to pose stately as they confront the viewer on their own terms. Mthethwa thus restores to these migrant workers the kind of dignity and humanity often stripped by the detached lens of photojournalists, which often catches the unsuspecting in dramatic moments of anguish and tragedy.
Mthethwa's photographs renew a healthy feeling of common humanity with the homeless, the poor, or other wretched people of this earth, a relief from the inevitable dehumanizing process of desensitization that comes from hearing or reading about helpless victims day after day.
"Zwelethu Mthethwa: Inner Views," runs till October 24 at the Studio Museum of Harlem.